Do you have memories of high flat living in the 1960s and 1970s in Glasgow? Would you be willing to talk to us about your experiences?
In the late 1960s Pearl Jephcott and Hilary Robinson, along with some hired market researchers, went round all the high rises then built in Glasgow conducting interviews with a 5% sample of all 22,390 individual homes in approx 183 blocks built by 1969. Just over 1,000 questionnaires were completed. Residents provided fascinating information on what they liked and disliked about their home, the block and the estate.This is one of the main archival sources we are using in our project. The 'Homes in High Flats' archive is held at the University of Glasgow archive. Here's the link to their flickr site (some great photos) –https://www.flickr.com/…/uofglibrary/sets/72157635259908084/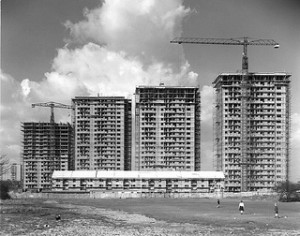 Mosspark Drive flats under construction (University of Glasgow Library collection)
Our project aims to assess the long term outcomes of high flats living in Glasgow.
if you have a story to share about living in high rise flats in Glasgow in the post-war decades we want to hear them!
You can contact the research team at multistoreymemories@gmail.com
And we have a facebook page here https://www.facebook.com/multistoreymemoriesGlasgow
Or follow us on Twitter @multimemories