On Sunday morning (8 May 2016) 5 Norfolk Court was demolished. This was the last of the high rise blocks in what was once the Laurieston Gorbals Comprehensive Redevelopment Area to go. Laurieston is again being redeveloped, just as it was in the early 1970s.
Laurieston Gorbals CDA
Source: Norfolk Street in 1973 ©Peter Mortimer and Duncan McCallum, Gorbals in the 70s (Stenlake Publishing)
Source: Norfolk Street in 1973 ©Peter Mortimer and Duncan McCallum, Gorbals in the 70s (Stenlake Publishing)
In 1957, in order to solve the problem of the city's ageing and overcrowded housing stock, Glasgow Corporation designated the whole of the Gorbals as a Comprehensive Development Area (CDA) (the Corporation would go on to designate a total of 29 CDAs, more than in any other city in the UK). The idea was to demolish all existing 'slum' tenements. As stated in the Corporation's Development Plan of 1960 (Glasgow: Corporation of Glasgow, 1960, p.13/53):
The area has declined all through this century becoming a 'transit' residential quarter accepting successive waves of immigrants and to-day much of the property is nearing the end of its useful life.
In addition:
The population density is very high and it is known from a sample survey carried out in 1958 that there is a high degree of overcrowding in sub-let premises. The maintenance of residential properties is noticeably poor.
This  were to be replaced with 'modernist' high density housing estates containing high and low rise flats. Gorbals was a large area and therefore in its plans the Corporation divided it into three areas, Hutchesontown-Gorbals CDA, Polmadie-Hutchesontown CDA and Laurieston-Gorbals.
Work started in the central area Hutchesontown-Gorbals in the late 1950s, with Laurieston-Gorbals following later in the 1970s. Designed by George Bowie, Chief Architect at Crudens (the company that also built Sighthill), the two blocks at Norfolk Court were approved in 1970 and completed in 1973.
Laurieston-Gorbals CDA not only involved the construction of four high rise blocks, Norfolk and Stirlingfauld Courts (approximately 5,500 houses were to be replaced by 3,000 flats in multi-storey blocks), but also included a section of the proposed inner city ring road.
The inner ring road was never built but here's what Laurieston would have looked like if it had been: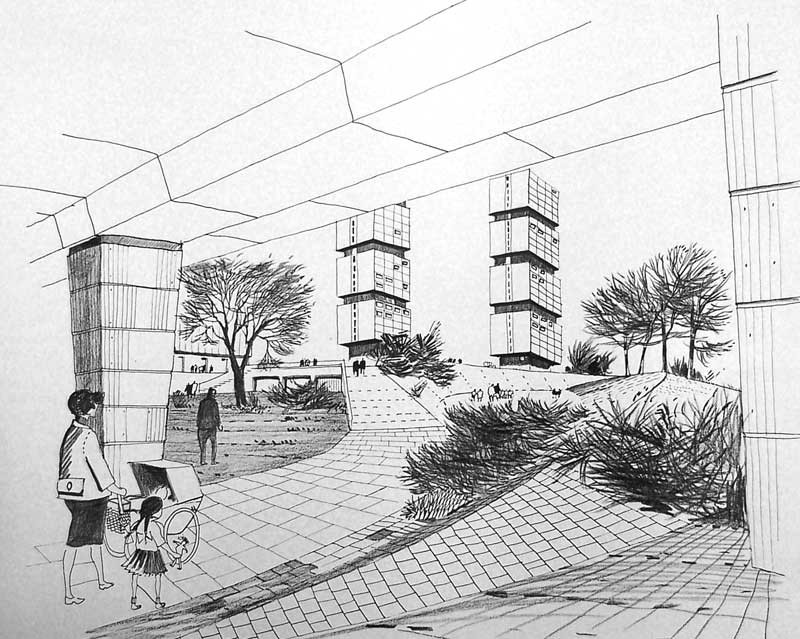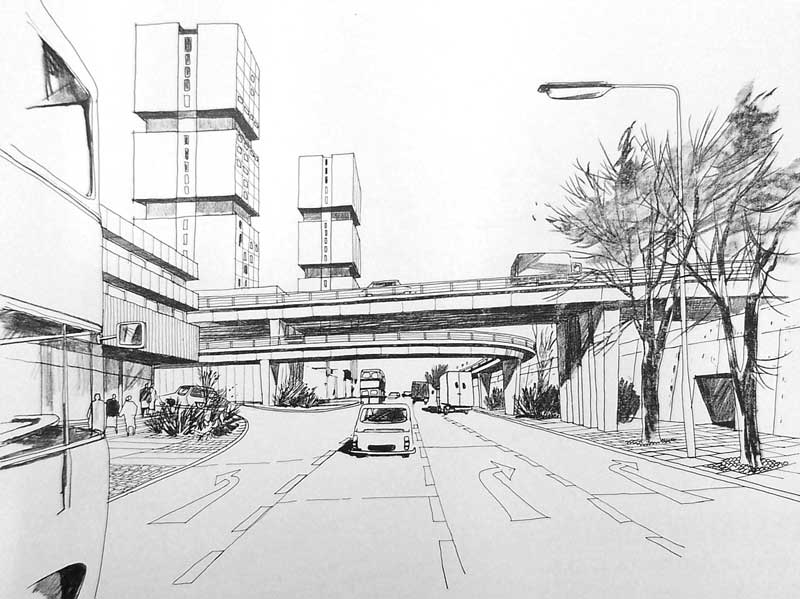 Source: Scott & Wilson, Kirkpatrick & partners, A Highway Plan for Glasgow, (Glasgow Corporation, 1965)
Life in Norfolk Court
Source: Raymond Depardon, Glasgow 1980 © Magnum Photos
One of our main sources on the 'Housing,Everyday Life and Well-being ' project has been Pearl Jephcott's 'Homes in High Flats' archive held at the University of Glasgow. Jephcott had employed a team of market researchers to interview over 1,000 residents of high rise flats throughout Glasgow. Her study ran from 1968 to 1969, with her book being published in 1971, so Norfolk court does not feature in the archive.
However in an article in the Daily Record in 2013, just before 66 Norfolk Court was demolished, residents reflected on their time living in the flats:
Katrin Reedik, 38, originally from Estonia, said:
"I just wish that they would refurbish the blocks instead of destroying them. In the last storm, I was huddled on the couch thinking the windows would blow in. If they were well-maintained and in good order, I would happily stay. I don't want to go."
John Olson, who had moved into the seventh floor of Norfolk Court in 1978 said:
"There was a feeling when we walked through the door that it was right. It was home."
John and his wife Betty spoke of a sense of belonging in the high rise, 'particularly in the little club on the ground communal area that served up mince and tatties to residents and held Christmas parties for the kids'.
Betty said:
"We all looked out for each other. It's a bit different now and a lot of the people we knew have died. There are drugs and problems but we loved it then and we still love it now. We feel terrible, we don't want to go."
Both also said they would miss the view, as did Katrin. John said:
"I have always loved watching the planes pass by the window."
Laurieston transformational regeneration area
On the site of Norfolk Court 'Laurieston Living' a partnership of Urban Union, Glasgow City Council and New Gorbals Housing Association plan to build '800 homes in a variety of sizes' in a 'mixture of townhouses and flats – inspired by the grand tenements of Glasgow'. They categorically state in their 'FAQs' that none of the housing 'will be situated in high rise blocks'.
Plans for the new development include housing, offices, shops, a hotel, student accommodation, parking and a bar/restaurant. Also 'at the heart of the new Laurieston masterplan is a city park which will knit together the new community'.
Second time lucky?
As Laurieston  is rebuilt again, inspired by the tenements that were demolished in the 1960s and 1970s, is 'Laurieston Living' fixing the mistakes of the past?
The wholesale demolition of the Gorbals in the 1960s and 1970s was controversial at the time and continues to be controversial today. For many people the high flats built in the 1960s and 1970s were a mistake, the tenements should never have been demolished, instead they should have been renovated.
For others the high rise flats in Laurieston were home, it's where they grew up, where they raised their families. As we've found from our online questionnaire, people have both good and bad memories of living in high rise flats. But what is clear is that there is nostalgia for the high flats of this era in the same way as there is for the tenements they replaced.
Did you live in Norfolk Court?
You could fill out our short online questionnaire 
Or You can leave a comment under this post, email us or look us up on social media:
Email: multistoreymemories@gmail.com
Website: www.glasgow.ac.uk/housingandwellbeing
Facebook: 'Multistorey Memories Glasgow'
Twitter: @multimemories